The Visual Art of Dale Obrochta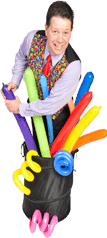 Spellbound by the visual artistry and giggling in delight audiences marvel at this family-friendly show orchestrated by Magical Balloon-dude Dale.
Colorful 3-foot tubes twirl about captivating audiences and transforms participants into stars. With every twist of the wrist and funny pun uttered, captivates the audience like a Pied Piper playing a tune.
Swept away by the  choreography the audience relaxes and enjoying the family moment. Tranquility sets in; knowing that behind every twist and joke is a veteran entertainer insuring that the unexpected pop will not deflate the fun.
Be it a show or roaming entertainment, your guests will see things they never dreamed possible with balloons.
"Our experience with Dale's  entertainment was superb. Dale was fantastic and was enjoyed both by the adults and children." –Dina Dandelles, Chicago
"My guest were so happy and very, very, impressed with his work. I am so glad that you made our party so much fun! "–Mary Spillson, Des Plains
Smartt Entertainment
Phone: 800.951.4861
Website www.SmarttEntertainment.com