The Grand Opening
A successful grand opening is a store full of people, free press, and providing community goodwill does not happen by luck; it requires strategic planning.  Dale's knowledge and experiences in helping businesses achieve these objectives are why people hire him. Being more than an Entertainer but an experienced leader will teach you the secrets of how to create a grand opening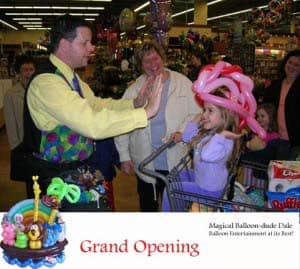 or product roll-out.
If you are having a grand opening for a new business, restaurant, shopping mall, dealership, sports franchise, ribbing cutting ceremonies, Dale is willing to work with you to make it special.
I explained you as an attention getter — personality all on your own. Best balloon maker in a style I have never seen before. Dale is very entertaining with jokes and silly comments and the attendees got a kick out of your balloon creations.  You help make the grand opening of the Naperville Automotive Test Track a success.–Breanne Kennedy – Naperville Convention and Visitor Bureau 

Make Your Grand Opening
Fun
Energized
News Worthy
Create Community Goodwill
Profitable
Dale is willing to work one-on-one to make sure your grand opening is a success.
Have your meeting planner or event producer contact Dale about availability for your
grand opening.