Put A Twist on the Hospitality Hour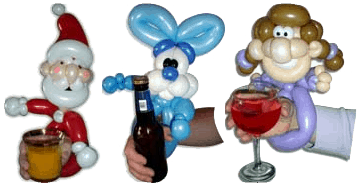 Around the room, small groups are socializing as they relax and take in the festivities that you have carefully orchestrated. Suddenly, a colorful wrist corsage catches your attention. You can tell by the reaction that she cherishes the personal artwork. In another part of the room, you hear laughter from a group of executives.  Over the crowd, you see a whisk of colors passing over the crowd heads.  Standing in the group, you see a Princess, Mickey Mouse, a Harley Davidson motorcycle and the hat best described as coming directly from the street of Brazil Carnival. The atmosphere is festive, relaxing, creative, and best of all you are getting compliments on the great venue you have created.  Your decision to hire Dale was defiantly the right one.
Why does Corporate America include entertainment at a reception?
Interjection of fun
Stimulates interaction
Entertainer helps springboard conversations among guest
Enhances the party theme