The Balloon Art of Magical Balloon-dude Dale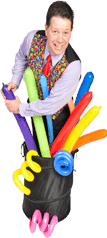 Spellbound by the balloon artistry and giggling in delight, Exxon employees marvel at this family-friendly professional product representative / good-humored balloon entertainer as he orchestrates a well-balanced sales pitch while crafting a unique balloon giveaway.
Colorful 3-foot balloons twirl about captivating audiences and transforms participants into stars. With every twist of the wrist, swirl of a balloon and funny pun uttered, captivates the audience like a Pied Piper playing a tune.
Swept away by the educational balloon twisting choreography, employee's relax and enjoy the Exxon Mobil 1 picnic. Tranquility sets in; knowing that behind every Pegasus twisted and joke uttered is a veteran entertainer insuring that the unexpected pop will not deflate the fun of the Exxon Mobil 1 message.
• "Dale spending time before the event researching what we do and working with us to get the most out of his services.    His extraordinary level of energy made our event. Overall Excellent! " Jessica Gochenour, Professional Research  Consultants, Inc
• "I explained you as an attention getter — personality all on your own" Breanne Kennedy – Naperville Convention and Visitor Bureau
• "I have been planning our company picnic for ten years and always thought we had a decent balloon artists. Little did I know Dale was above and beyond decent. He was outstanding and exceeded my expectations by far! His balloons were amazing and he kept the line laughing while they waited. We will plan our picnic around his availability! He made our picnic a very special event." Karen Anselm, HR Urschel

Funny Business Entertainment
Call Us at 888.593.7387
Click Here to Get Started
E-mail